Tuesday, May 16, 2017, from 2PM to 4PM in room A of the Polo Didattico Nobili, Pisa University, Italy, there will be a lecture on "Artificial Light at Night: Perspectives between Tuscany and Europe on Research, Outreach, and Citizen Science".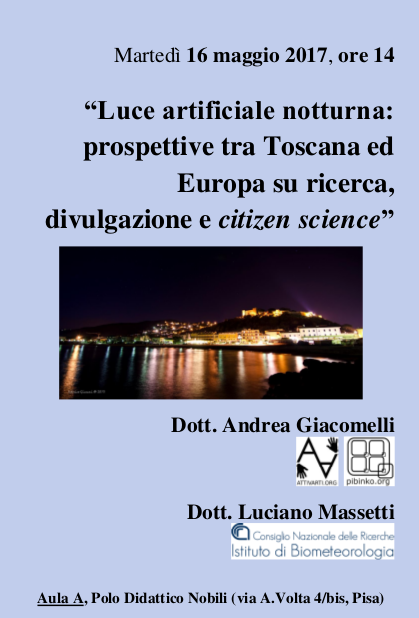 The lecturers will be  Luciano Massetti, Senior Technologist at the Institute of Biometeorology of the National Research Council, and Andrea Giacomelli, MSc Environmentla Engineering and PhD in Hydrology, manager of the BuioMetria Partecipativa project.  The event is hosted by the Department of Biology, thanks to the collaboration with Dr Elena Maggi
postdoctoral fellow from the Marine Biology and Ecology group in Pisa.
The event will be an opportunity to learn about the state of the art on the issue of artificial light at night from a perspective combining research, dissemination, and engagements of experts from various disciplines, and analyzing both risks and opportunities related to the use of this resource.
The talks will combine a local viewpoint with a global one: experiences ongoing in lesser known rural areas, such as Southern Tuscany (which -together with the Tuscan archipelago- represents in Italy one of the areas with the best night sky quality) will be reviewed in relation to a wider framework, accounting for the experiences of the lecturers in European research networks and other international initiatives.
The afternoon will also be the opportunity to present the program of activities where everybody -from experts to citizens- may participate during the Summer and the following months, continuing the night sky brightness monitoring campaign started in 2008 with the BuioMetria Partecipativa project (which for 2017 will propose some marine options, as an extension to its scope).
After the lecture, some of the attendees will move to  La Torre del Luppolo, via Fucini 13, where it will be possible to further discuss the issues presented in "after hours" mode (from 6PM to 8PM).
The event is organized by: Dipartimento di Biologia dell'Università di Pisa, CNR IBIMET,
associazione Attivarti.org e pibinko.org.
Admission to the event is free, but for organizational issues an e-mail to emaggi@biologia.unipi.it. will be appreciated if you plan to attend.
How to reach the venue
By train: from the Pisa Centrale train station walk North, along Corso Italia. Cross the Arno river on Ponte di Mezzo. Turn left on Lungarno Pacinotti. At the traffic light of the following bridge (Ponte Solferino) take a right in via Roma, and keep walking to the intersection with via Volta.
By car: toll parkings exist on Lungarno Simonelli, via Roma or piazza Carrata, driving from Lungarno Pacinotti
For more information
Elena Maggi: emaggi@biologia.unipi.it, ph +39 050 2211444