This article covers the first public announcement for the Farma Valley Winter Festival.
A pagina 15 (terza pagina della cronaca locale), articolo di Giovanna Mezzana. L'articolo originale è sul sito de Il Tirreno. Sotto riportiamo una versione integrata da link.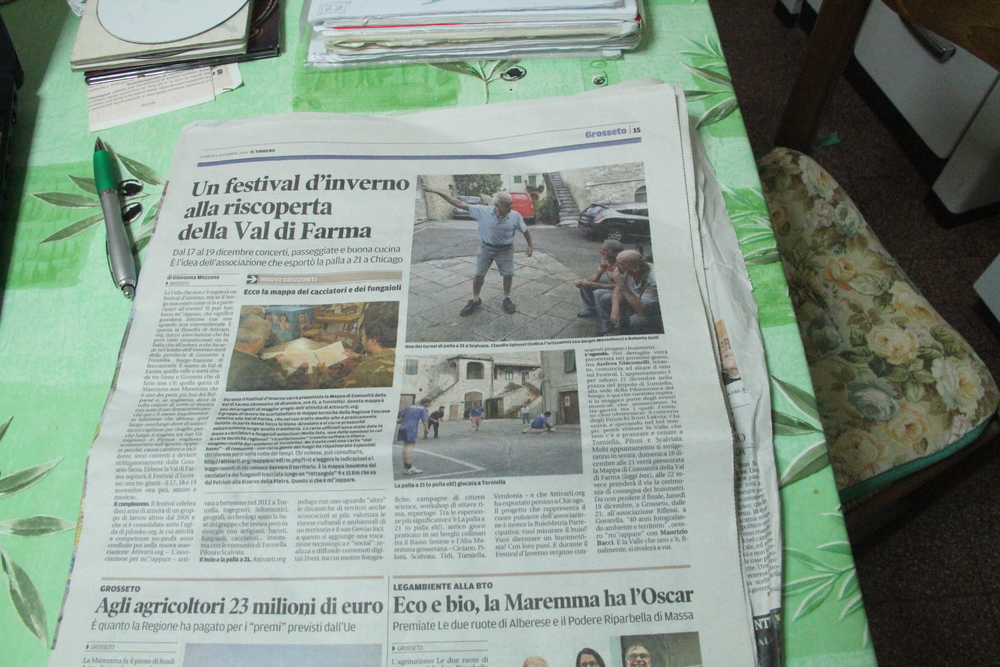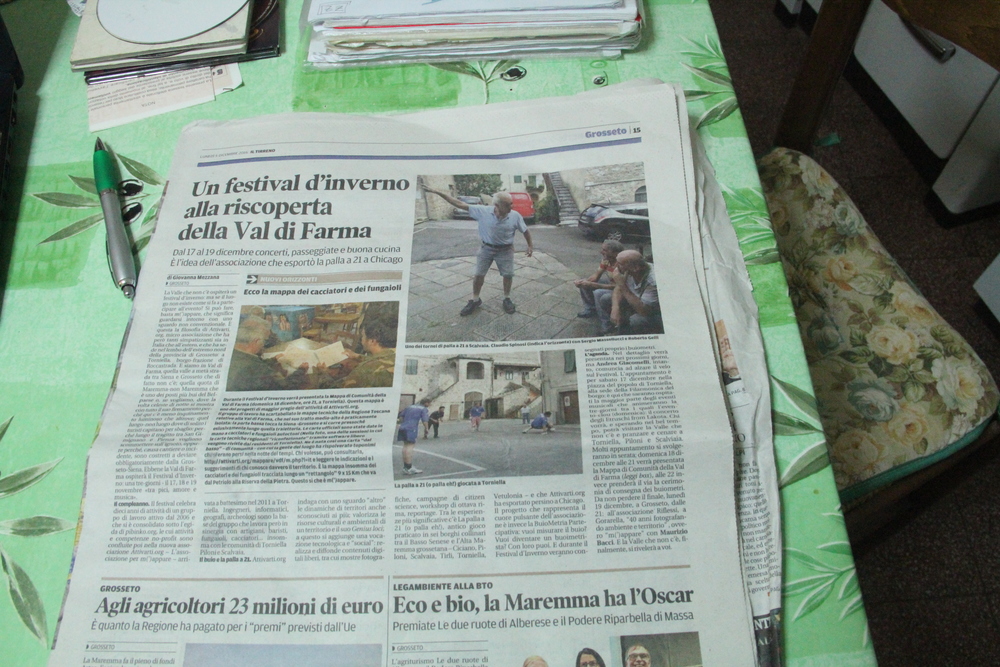 Dal 17 al 19 dicembre concerti, passeggiate e buona cucina È l'idea dell'associazione che esportò la palla a 21 a Chicago
di Giovanna Mezzana
GROSSETO. La Valle che non c'è ospiterà un festival d'inverno: ma se il luogo non esiste come si fa a partecipare all'evento? Si può fare, basta m(')appare, che significa guardarsi intorno con uno sguardo non convenzionale. È questa la filosofia di Attivarti.org, micro associazione che ha però tanti simpatizzanti sia in Italia che all'estero, e che ha sede nel lembo dell'estremo nord della provincia di Grosseto: a Torniella, borgo-frazione di Roccastrada. E siamo in Val di Farma, quella valle a metà strada tra Siena e Grosseto che di fatto non c'è; quella quota di Maremma-non Maremma che è uno dei posti più bui del Belpaese o, se vogliamo, dove la volta celeste di notte si mostra con tutto il suo firmamento perché qui c'è meno inquinamento luminoso che altrove; quel luogo-non luogo dove di solito i turisti capitano per sbaglio: perché lungo il tragitto tra San Gimignano e Pienza vogliono scommettere sull'ignoto, oppure perché, causa cantiere o incidente, sono costretti a deviare obbligatoriamente dalla Grosseto-Siena. Ebbene la Val di Farma ospiterà il Festival d'Inverno: una tre-giorni – il 17, 18 e 19 novembre «tra pici, amore e musica».
Il compleanno. Il festival celebra dieci anni di attività di un gruppo di lavoro attivo dal 2006 e che si è consolidato sotto l'egida di pibinko.org, le cui attività e competenze no-profit sono confluite poi nella nuova associazione Attivarti.org – L'associazione per m(')appare – arrivata a battesimo nel 2011 a Torniella. Ingegneri, informatici, geografi, archeologi sono la base del gruppo che lavora però in sinergia con artigiani, baristi, fungaioli, cacciatori… insomma con le comunità di Torniella Piloni e Scalvaia.
Il buio e la palla a 21. Attivarti.org indaga con uno sguardo "altro" le dinamiche di territori anche sconosciuti ai più; valorizza le risorse culturali e ambientali di un territorio e il suo Genius loci; a questo si aggiunge una vocazione tecnologica e "social": realizza e diffonde contenuti digitali liberi, tra cui mostre fotografiche, campagne di citizen science, workshop di ottava rima, reportage. Tra le esperienze più significative c'è La palla a 21 (o palla eh!), antico gioco praticato in sei borghi collinari tra il Basso Senese e l'Alta Maremma grossetana – Ciciano, Piloni, Scalvaia, Tirli, Torniella, Vetulonia – e che Attivarti.org ha esportato persino a Chicago. Il progetto che rappresenta il cuore pulsante dell'associazione è invece la BuioMetria Partecipativa: vuoi misurare il buio? Vuoi diventare un buoimetrista? Con loro puoi. E durante il Festival d'Inverno veranno consegnati proprio i buiometri.
L'agenda. Nel dettaglio verrà presentata nei prossimi giorni, ma Andrea Giacomelli, intanto, comuncia ad alzare il velo sul Festival. L'appuntamento è per sabato 17 dicembre nella piazza del popolo di Torniella, alla sede della Filarmonica del borgo: è qui che saranno ospitati la maggior parte degli eventi musicali che animeranno la tre-giorni tra i quali l'evento-clou (domenica): il concerto degli Etruschi from Lakota. Chi vorrà, e sperando nel bel tempo, potrà visitare la Valle che non c'è e pranzare e cenare a Torniella, Piloni e Scalviaia. Molti appuntamento si svolgeranno in serata: domenica 18 dicembre alle 21 verrà presentata la Mappa di Comunità della Val di Farma (leggi box), alle 22 invece prenderà il via la
cerimonia di consegna dei buiometri. Da non perdere il finale, lunedì 19 dicembre, a Grosseto, dalle 21: all'associazione Riflessi, a Gorarella, "40 anni fotografando ambiente e territorio" , ovvero "m(')appare" con Maurizio Bacci. E la Valle che non c'è, finalmente, si rivelerà a voi.