[TO BE TRANSLATED]
L'incontro si è svolto tra le 11.15 e le 12.35 circa.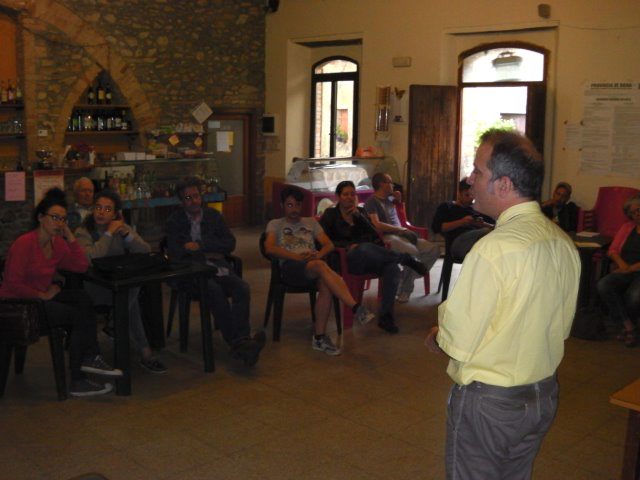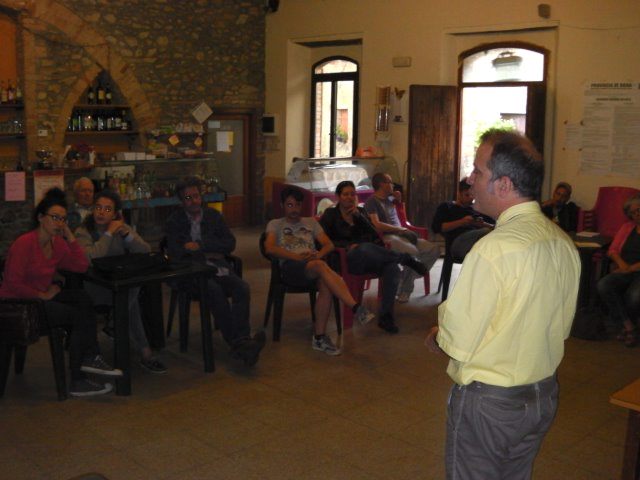 Partecipanti, tendenti al venti, non pochi, non tanti, ma tutte persone motivate e interessanti. In assoluto, non pochi per una domenica mattina con gli scrosci d'acqua.
Età: tra 17 e (stimo) 77 anni.
Provenienza: solo una persona proveniente da fuori Valle Che Non c'è.
La chiacchierata, partita da un'analisi socioeconomica del progetto "palla a 21: dalla Toscana a Chicago e ritorno", ed è finita con una sveglia di marca "Peter" che ha suonato la fine dell'intervento, come la campanella alla fine della lezione.
Tra l'inizio e la fine dell'evento…
un excursus su vari progetti svolti a partire dal 2007
l'analisi delle relazioni tra persone dei tre borghi di Scalvaia, Piloni e Torniella e il resto dell'orbe terracqueo
accenni alla partecipazione al concorso internazionale indetto dal progetto INVOLEN con i location based games per m(')appare la Val di Farma
le cinque interviste fatte da Giulia Ceccarini a Renato Bartalucci e Marisa Boncioli, come base per i giochi INVOLEN
alcuni spunti delle attività nell'ambito della rete Loss of the Night
gli inserti -mai a caso- di Claudio Spinosi, noto Bobbe,
…ma soprattutto, con applauso a scena aperta, il reading che Alessio Serragli detto Il Secco ha fatto del testo prodotto da pibinko con la direzione artistica di Giancarlo da Miele e Aldo Randallo. Questo è provvisoriamente intitolato "La Valle che non c'è", a ricalcare la nota canzone di Edward Wellborne (Edoardo Bennato)…magari da ri-arrangiare con base diversa. Le parole in questo caso hanno contato più della musica.
Prossimo appuntamento: giovedì 16 luglio, ore 22, al Palazzo dell'Abbondanza di Massa Marittima per m(')appare l'altra metà del paesaggio.
Per informazioni: mappare@attivarti.org
Oltre ai partecipanti e agli assenti giustificati, si ringraziano in particolare:
Il Circolo "Il Barbicone" di Scalvaia per l'ospitalità
Elisabetta Vainigli della fotoottica di Monticiano per il reportage
Giulia Ceccarini della Casa del Chiodo di Piloni per il supporto multimediale.
Il Comune di Monticiano per il patrocinio e la presenza del Sindaco, Sandra Becucci