Please see also http://www.pibinko.org/palla-a-21-or-palla-eh/
Summer brings fun and games in Chicago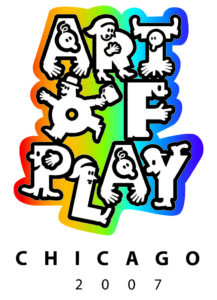 By Shawn Smith
on May 13, 2007 at 10:36 AM, updated May 14, 2007 at 10:43 AM
CHICAGO — It seems appropriate that Chicago, fresh from winning its bid to become the U.S. choice to host the 2016 Summer Olympics, plans a summertime promotion celebrating fun and games.
"The Art of Play: Summer in Chicago 2007" revolves around games, toys and the spirit of play. Exhibitions, hands-on activities and hotel packages are all part of the mix in the birthplace of the Ferris wheel, Lincoln Logs and Tinkertoys.
The centerpiece is a display of 30 monumental sculptures at the West Side's Garfield Park Conservatory. Massive in scale, some as long as 25 feet, they are the works of the late artist Niki de Saint Phalle, who was born in France and raised in New York City.
AP PhotoSculptor Niki de Saint Phalle's La Cabeza (The Head) sits in Chicago's Garfield Park Conservatory Thursday, May 3, 2007.
Titled "Niki in the Garden," the exhibit of these magical, joyful figures includes animals, sports heroes and Saint Phalle's famous "Nanas" (French for "babes" or "chicks"), powerful, oversized women, often in dancing or athletic poses. Most of the pieces invite sitting, climbing or crawling through their secret passages.
Game on
At Come In and Play, the "Art of Play" headquarters downtown at the Chicago Tourism Center, visitors can drop in to play games and see two exhibits — one on game- and toy-inspired artwork, the other on the history of games invented in Chicago.
Each week features different games to play, from puzzles and trivia to board games and cartoons. The Chicago Office of Tourism and Chicago International Toy and Game Fair have partnered to create themed hotel packages that provide guests with games to check out.
Millennium Park, the new tourist magnet in the heart of downtown on Michigan Avenue, offers a summer-long Family Fun Festival, another celebration of play. From 10 a.m. to 4 p.m. daily, kids can enjoy crafts and other hands-on projects at the activity tent.
"Bubble Mania" is the theme June 5-10, when youngsters can make a bubble big enough for two, form bubbles with unusual blowers and make a bubble blower to take home. A family entertainment stage lets kids get into the act.
Millennium Park Greeter Tours, free guided walks held daily at 10 a.m. and 2 p.m., spotlight the park's gardens, fountains and sculptures, including the shiny metal "Bean," officially named "Cloud Gate." New this year are five large-scale metal sculptures by abstract expressionist sculptor Mark di Suvero.
The park's iconic Jay Pritzker Pavilion, framed by a jumble of twisted steel designed by famed architect Frank Gehry, showcases the June 1-3 Chicago Gospel Music Festival, first in a series of free lakefront fests.
The same stage presents the 73rd annual Grant Park Music Festival, a series of Wednesday, Friday and Saturday orchestra concerts that runs through Aug. 15. A state-of-the-art sound system serves the covered seating section and lawn area. The festival (named for its former home just to the south of Millennium Park) begins June 13 with a Beethoven and Brahms program.
Six stages in Grant Park set the scene for the June 7-10 Chicago Blues Festival, the world's largest free-admission blues festival.
Taste of Chicago, the city's biggest lakefront party, takes place June 29-July 7, turning Grant Park into a hotbed of food, fun and frivolity. More than 1 million people grab the chance to sample specialties from more than 70 Chicago restaurants.
Other choices range from the city's signature deep-dish pizza to such ethnic delights such as Persian char-grilled chicken with pomegranate barbecue sauce.
Chicago SummerDance, an 11-week festival in Grant Park's Spirit of Music Garden, gives folks a chance to kick up their heels on an open-air dance floor Thursday, Friday, Saturday and Sunday evenings. One-hour dance lessons (from salsa to ballroom) are followed by two hours of live music and dancing.
Cirque Shanghai, a talented troupe of Chinese acrobats, returns to Navy Pier's Skyline Stage with a full summer of shows starting June 6. Last year's stint, drawing 135,000 people, was the most successful event in the stage's history. "Cirque Shanghai: Bai Xi" features aerial acrobatics, plate spinning, contortion and hoop diving.
Classic theater
Also at Navy Pier, William Shakespeare's "Troilus and Cressida," a love story rooted in the Trojan War, runs through June 24, concluding the Chicago Shakespeare Theater's 20th anniversary season.
North on the lakefront at Fullerton Avenue, Theater on the Lake begins its 55th season June 13, each week offering a different production from a local theatrical company.
Bookworms look forward to the annual Chicago Tribune Printers Row Book Fair, June 9-10 in the historic South Loop neighborhood that once housed printing factories.
In tents on Dearborn and Polk streets, under the stately tower of an 1885 railroad station, 150 new, used and antiquarian booksellers will display their wares. Included are author readings and signings, panel discussions, cooking demonstrations and children's activities.
— Randy Mink is a freelance writer based in the Chicago area.
Fonte: http://blog.mlive.com/michigan_travel/2007/05/summer_brings_fun_and_games_in.html