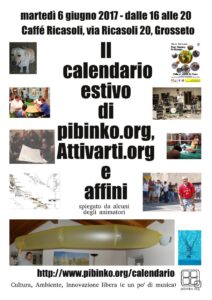 Tuesday, June 6, from 4PM to 8PM at Caffé Ricasoli, in via Ricasoli 20, Grosseto, there will be a presentation of the second part of the 2017 combined calendar of events, by pibinko.org, Attivarti.org and other partnering subjects.
2017 started as a peculiar year, as it marks the tenth anniversary of an initiative which was a true milestone for the organizers of next Tuesday's event, i.e. the mission of  palla a 21 to Chicago, Illinois . With this, a delegation of players of palla a 21/palla eh!, a Southern Tuscan variant of hand-ball games played throughout Europe but practiced only in six tiny hamlets (Torniella, Piloni, Scalvaia, Ciciano, Tirli e Vetulonia) was part of the Summer Calendar of events by the  Department of Culture of the Windy City. Our idea was then not only to demonstrate the game, but also to present the territories where it survives.
The peculiarity of this story was that it was developed by people with no prior experience in international event management, and that it was mainly supported with creative fundrasing, such as Winter card game tournaments or lotteries in the villages (especially Tornielly, Piloni, and Scalvaia).
This first project laid the foundations for more initiatives. These were initially considered by most somewhat weird, albeit intriguing, and subsequently acknowledged by more and more people as interdisciplinary projects for the protection and promotion of local assets, with an international vision, and the possibility of including scientific aspects in parallel to communication and marketing. We will mention here the BuioMetria Partecipativa citizen science initiative, the photo contest Between Dusk and Dawn, the Farma Valley Community Map or the "Culture, Environment, Open Innovation" series of meetings.  Please also refer to the "more details on..." section of pibinko.org for some specific focus topics we have started to compile, as a part of our ten-year anniversary operation.
Starting from last Fall, within our team we started thinking of a proper way to remind people about the "palla 21 in Chicago" experience, not in a "good old times" blue mood, but with initiatives to be directly connected to our ongoing work. The first initiative generated by this intent was the Farma Valley Winter Fest, on Dec 17-19, between Torniella and Grosseto, and after this we had at least two events per month, touching various Italian regions.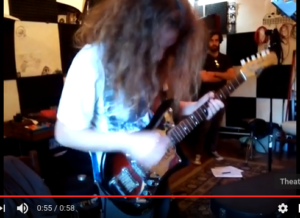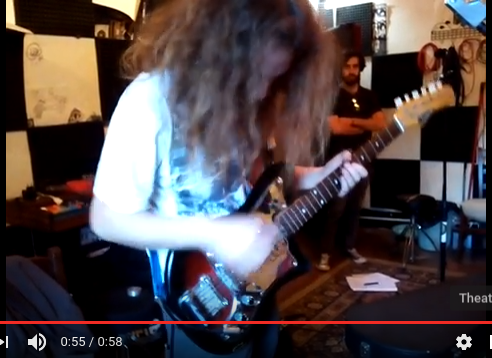 The June 6 meeting is meant as a turning point, from our Winter calendar to a Summer mode, with outdoor activities, and thinking about games (such as Palla a 21, but not only), always with some cool music in the background.
Our planning schedule is in fact directly available online at https://www.pibinko.org/calendar, and is regularly updated.
However, if you will visit us at Caffé Ricasoli, you will directly meet some of the folks who are part of the story. Last but not least, should you be interested to host one of our events, or propose new topics which may interact with our network, the Tuesday June 6 event will be the right place to talk.
At present from our team we have confirmations by:
For more information: info@pibinko.org