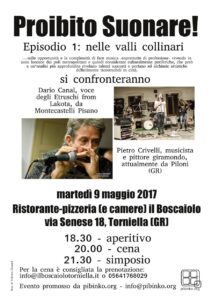 Following an undocumented process already seen in past cases related to pibinko.org, over the past few days a casual two-hour meeting arranged about a month ago took the shape of an event which was rated "very cool" by those who heard it presented. This will be called "Proibito suonare" (i.e. "No live music allowed")… a kind of symposium between two musicians from different generations, with the minimum common denominator of living in an area where it is not simple to make music (nor a lot of other stuff!).
The date is Tuesday, May 9 (tomorrow, but the neighbouring acquaintances have been pre-alerted). The full presentation of the event is on this page.
Meanwhile, preparations are taking place for the next tour, with dates planned in:
Pisa, May 16, With a lecture on light pollution and citizen science at the University
Pisa, May 19, Etruschi from Lakota live (venue and opening time in the next newsletter)
Cuneo, May 20  (more details in a couple of days)
Milano, May 30, with a lecture at the  Politecnico di Milano in the morning, and an evening event, currently in the process of being finalized.
Durante each of these events (and in between, may I add) we will give details about the Summer/Fall range of activities, as planned by : pibinko.org, Attivarti.org, Etruschi from Lakota, Filarmonica e Banda di Torniella, Pro Loco Piloni-Torniella, and other colleagues in Tatti and Milano.
As usual, the best way to check what's on is the pibinko.org  Calendario together with the  News section, where you can also review past interesting situations.
Ten Years ago, today
(for the musical part: checking the singles charts from 2007 every week is not so stimulating in the end…but I lilke to recall that in May 2014, during the palla a 21 mission to Milano, we were thinking about "Spread your Wings" by Queen in the branobags)
Coming back to the actual 2007 events leading to the Palla a 21 experience in Chicago, Illinois: on May 4 we have yet another fundraising card tournament, this time in Ciciano. Meanwhile,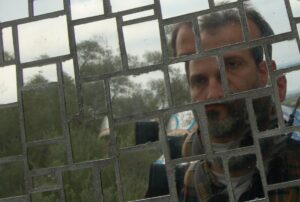 Leigh Fagin, from the Department of Cultural Affairs sent us the boilerplate narrative which (according to them) was to be used on our marketing material to promote the events inserted into the "Art of Play", Summer Calendar. I did not remember that installations by Nikki de Saint Phalle, were one of the highlights of the exhibitions (and Nikki de Saint Phalle is in fact well known in Southern Tuscany for her Tarot Garden, which I visited only once, in 2014):
ART OF PLAY BOILERPLATE:
SHORT VERSION (for your website, press releases, printed materials etc.)
Your event name goes here is part of Art of Play, the citywide summer celebration of toys, games and the spirit of play from June 1 through September 30. For details, call 1.877.chicago (1.877.244.2246 toll-free) or visit ArtofPlayChicago.com. The TTY toll-free number for the hearing impaired is 1.866.710.0294.
LONGER VERSION (For your information)
Your event name goes here is part of Art of Play: Summer in Chicago 2007, the citywide initiative with 150-plus fun-filled events celebrating toys, games and the spirit of play from June 1 through September 30. Art of Play is presented in collaboration with over 70 Chicago cultural organizations, the Chicago Office of Tourism, the Chicago Department of Cultural Affairs, the Mayor's Office of Special Events and the Illinois Department of Commerce and Economic Opportunity, Bureau of Tourism.
Art of Play: Summer in Chicago 2007 features performances, demonstrations, tours, exhibitions, hands-on activities and more. Its centerpiece, Niki in the Garden at the Garfield Park Conservatory through October 31, is an extraordinary exhibition featuring 30 colossal, colorful sculptures by world-renowned artist Niki de Saint Phalle, many inviting interaction from touching to sitting to climbing. At Come In and Play, explore the history of Chicago-invented and -manufactured games and toys in an exhibition, through demonstrations of the latest inventions and by playing the featured game of the week. For a pre-planned weekend itinerary, try an Immersion Weekend featuring world's fairs, museums or theater. Or, play Games for Guests and find special hotel packages at select hotels.
For more information or to request an Art of Play guide stop by Come In and Play, located at 72 E. Randolph Street, check ArtofPlayChicago.com or call 1.877.CHICAGO (1.877.244.2246 toll-free). To book hotel accommodations with special offers or to book an Immersion Weekend, call 1.877.CHICAGO or visit ArtofPlayChicago.com. For those calling from outside the United States, Mexico and Canada, call 1.312.201.8847. The TTY toll-free number for the hearing impaired is 1.866.710.0294. Chicago tourism information is also available at www.cityofchicago.org/Tourism.
Visitors can also find information about Chicago's exciting events at one of the City's official Visitor Information Centers, located at Chicago Water Works (163 E. Pearson Street) and the Chicago Cultural Center (77 E. Randolph Street).
[continua…]