Above the title, part of a rainbow between Montemassi and Sticciano, Southern Tuscany, April 14, 2019 (see the full picture here)
Between May 10 and 12, 2019, a delegation from Politecnico di Milano's Department of Civil and Environmental Engineering will undertake a mission which will bring a meteorologist and the chief technician from the hydraulics lab from the famous university to visit various sites in Southern Tuscany. This is in the context of the consolidation of existing environmental monitoring and research projects conducted in the area by some rural communities.
Motivation
This initiative is not casual: it spawns, in fact, from a historical relation between the Department and the pibinko.org network (whose coordinator, Andrea Giacomelli, obtained his MS and his PhD from Politecnico di Milano), dealing since 2007 with projects intertwining environmental engineering, land planning, culture, and open innovation.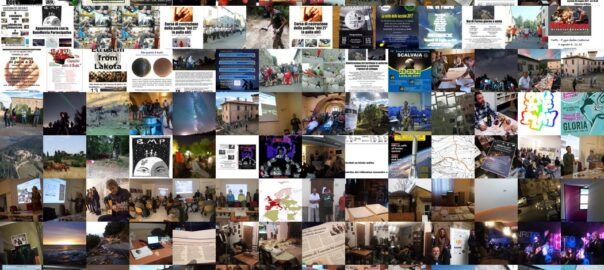 The results of such activities have often been unusual, and at times unexpected, considering the composition of the core team of the network, in Tuscany. This group does not have a "traditional" scientific committee, with representatives from academia or official research institutions: its scientific and technological strategies are based on the bottom-up integration of international expertise of some members with traditional knowledge of other members, and all of them reside in hamlets in the hills of one of the areas with the lowest population densities in Italy.
Starting from this setting, the group has developed collaborations with European projects, received awards, intercontinental invitations to showcase their work, and started formal training activities, always maintaining their home base in an area which is known in most of the world for its enchanting landscapes, stunning natural features, and an extremely enticing food and drink menus, but does is not generally perceived as a territory providing ideas for research or innovation.
Technical schedule and outreach events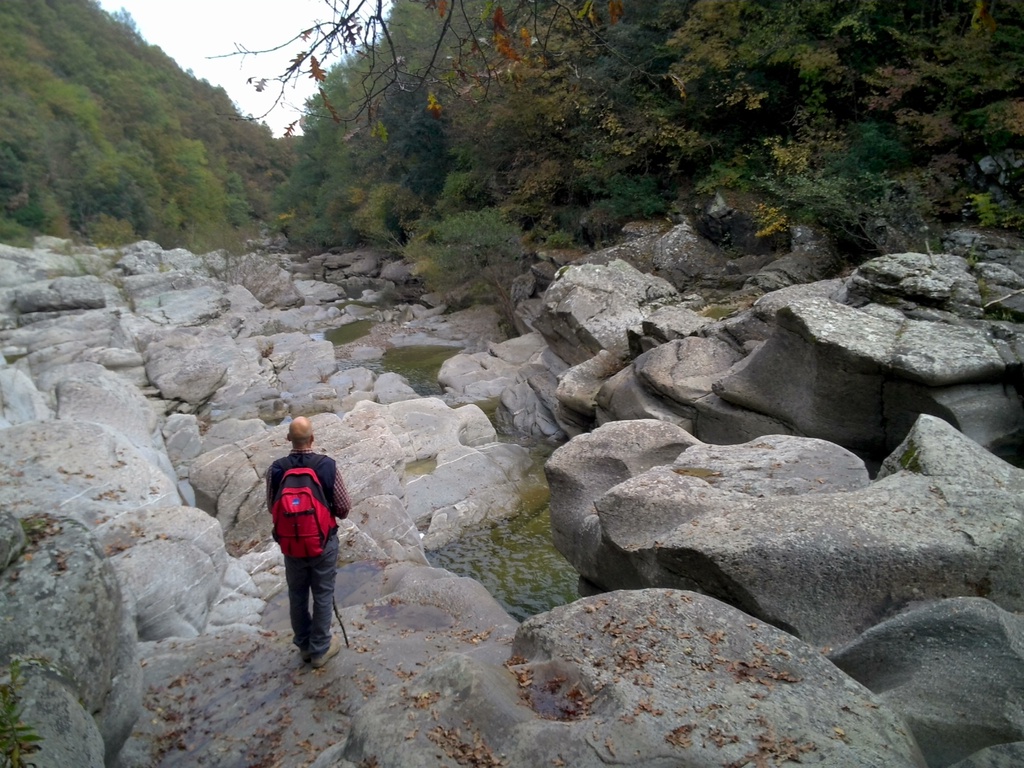 The May 10-12 mission is composed of a technical part and an outreach part. In the technical part, Alessandro Ceppi and Giuseppe Milleo from DICA will first of all install a weather station in the Farma Valley, half way between Siena and Grosseto, to be integrated in the MeteoNetwork infrastructure. Together with pibinko.org they will then visit various sites between the Farma Valley and the Gulf of Follonica, in order to get acquainted with some peculiarities of this territory and of some agri-food and tourism businesses, which to date they have known only through the talks which Andrea Giacomelli has been giving at the Politecnico since 2011.
The technical activities will be complemented by two outreach events:
Saturday, May 11 AM, in Torniella, a symposium concerning opportunities for promotion and protection of inner rural areas through the collaboration of local expert networks and research institutions.
Saturday May 11 PM, location to be defined, a geomusical moment with components of the Metalliferous Hills Jug Band.
Please note: a detailed program for the May 11 schedule will be published at the beginning of May.

Previous experiences
If we scan our records, we will find that the DICA mission is not the first scientific delegation visiting Southern Tuscany via the pibinko.org network.
In 2012 we had the presence of a working group from the ENVIROFI project, concerning the testing of apps for tree biodiversity citizen science, with workshops in Torniella and Florence. In 2015 we hosted, again in Torniella and Piloni, about a dozen of experts on artificial light at night issues, from six different countries.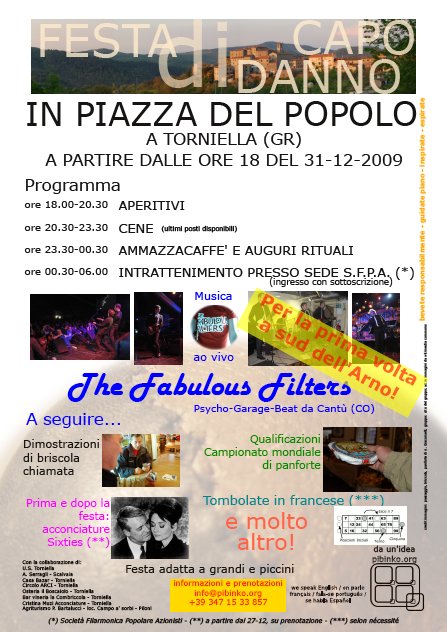 Actually, the first initiative where we had significant international visitors in the pibinko.org context is represented by 2009-2010 New Years'Eve celebrations organized in Torniella. That event was seen by the team as the summary of three years of work, and led to the discreet yet not informal presence of some researchers and officers from European institutions, who were interested to understand the context originating a series of creative projects. This eventually triggered a series of opportunities to share ideas and initiatives in high-level venues such as joint NASA Workshops, or community engagement events linked to large conferences, such as the First INSPIRE Mashup in 2010 in Krakow, Poland, or the first INSPIRE conference mini-footbal tournament.
In this line of work, the new element for the May 2019 events is that they will derive from a co-design exercise between DICA and the pibinko.org network, thus representing a novelty in our experience.
After the Southern Tuscan mission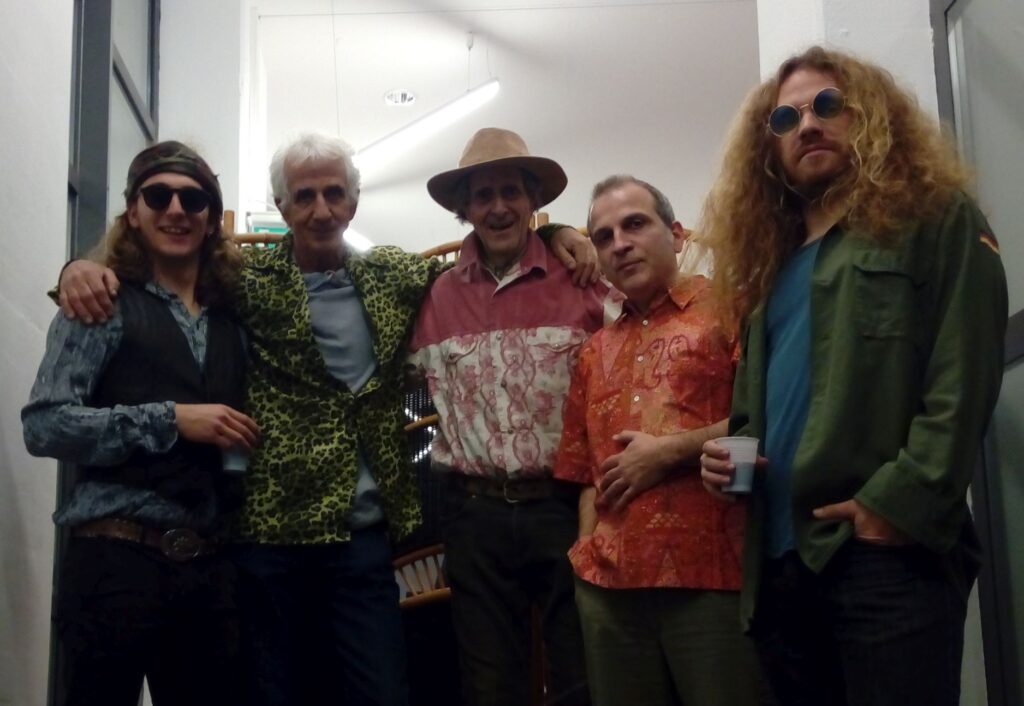 In addition to not representing a casual operation, the DICA mission is also not isolated: in fact it is part of a rather rich calendar of events, managed by the pibinko.org in collaboration with various public and (mostly) private subjects. During Spring these will take place in Tuscany, Lombardy, Belgium, and Germany.
Among other events, we must flag a national conference on interdisciplinary protection and promotion of the night sky, at the University of Brescia, where pibinko.org is managing the scientific programme of the event. Last, but absolutely not least, at the end of May we will have an event at Politecnico di Milano which will represent a "dual" version of the May 10-12 experience. If you are in Milano on May 30, you will be able to find a delegation from the Metalliferous Hills (and from the Cecina Valley geothermal district, close by) hosted at DICA, giving a talk explaining how pibinko.org went "From Sound Engineering to Engineering with Sound".
For more information: info@pibinko.org or +393317539228