Pro Loco Piloni-Torniella is organizing for Sunday, July 2, 2017, the seventh Farma Valley Mountain Bike Trophy. This is half way between Siena and Grosseto, in Southern Tuscany.
The departure will be at 9.30AM in the main square of Torniella, arriving in Piloni after 39 kilometers and about 900 m of altitude difference.
For those of you less in shape, but still curious of visiting the valley's woods, we have the possibility of a
non-competitive trail
, to be decided with those who will show up. For the really lazy folk, it will also be possible to get to know the itinerary, together with other parts of the valley with the
Farma Valley Community Map
, which is in the process of being completed and offers an unusual view of this territory.
This is the track, developed during the years a passionate group of resident MTB fans (clicking on the image will open a higher-resolution image):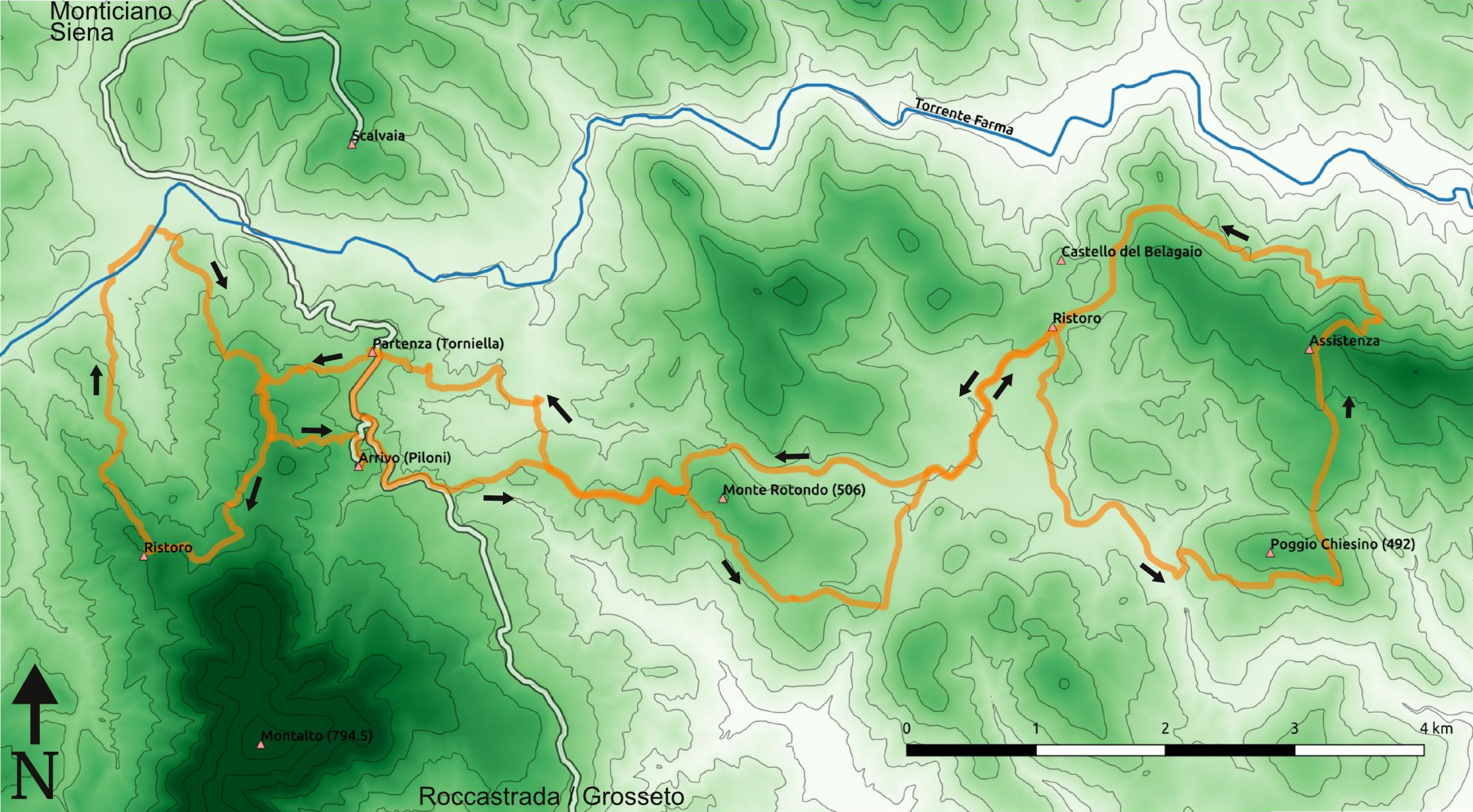 Regulations
A helmet is mandatory during the race.
Participation is open to any member of an association affiliated to ACSI, FCI, or sports promotion associations acknowledged by CONI.
Categories: Beginners, Junior, Senior, Veterans, Gentlemen, S. Gent. A. e B – Ladies
Prizes to be assigned to the first three arriving for each category.
Registration due by June 30 2017 (by e-mail to gianni.giannotti74@yahoo.it)
Registration fee: 12 Euro
Payment: at the Bar La Combriccola in Torniella before the race.
There will be the possibility of having a shower at the end of the race, in the premises of the football field.
Lunch: pasta party, free for all riders. For the others: 15 Euro for adults and 5 Euro for children.
The organizing parties decline all responsibilities for accidents which may occur before, during, or after the competition.
Medical assistance will be insured during the event.
For issues not covered by this notice, please refer to the national regulations by ACSI Ciclismo.
Thanks for their support to
ACSI Ciclismo
B.M. srl – Torniella
Falegnameria Mugnaini – Torniella
Parrucchiera Cristina Muzi- Torniella
F.lli Giannotti Legnami- Torniella
Termo Service – Torniella
Foto Ottica Vainigli – Monticiano
Casa Bazar – Torniella
Edilmark – Grosseto
Ristorante pizzeria affittacamere il Boscaiolo – Torniella
Bar Vineria la Combriccola – Torniella
Cicli MBM – Grosseto