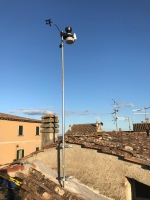 From May 29, 2019, the weather data recorded by the station installed in Torniella on May 10, during a visit in the Farma Valley by Politecnico di Milano, are online. The pibinko.org networking has been collaborating with the Department of Civil and Environmental Engineering, giving periodic talk in the Milanese university.
The basic weather data recorded are visibile in real time from the address https://www.pibinko.org/weather-in-torniella-southern-tuscany/
The station has been inserted in the meteonetwork network (it is in fact the first sensor in the Province of Grosseto to appear there). The meteonetwork page also provides archives and various reporting option.
The weather station in Torniella represents an interesting addition to other sensors and monitoring activities which the pibinko.org network is undertaking in the area since 2008, especially with the BuioMetria Partecipativa project and the Farma Valley Community map. In the coming months the pibinko.org working group, together with local businesses and associations, and the Department of Civil and Environmental Engineering at Politecnico di Milano will coordinate on definining additional uses for this new information source in the valley.
For more information: info@pibinko.org o +393317539228