Fasten your seat belts, fold your tray tables and switch off your tablets (but not before you have read this message!)…we are about to take off for a lively round of events by pibinko.org and friends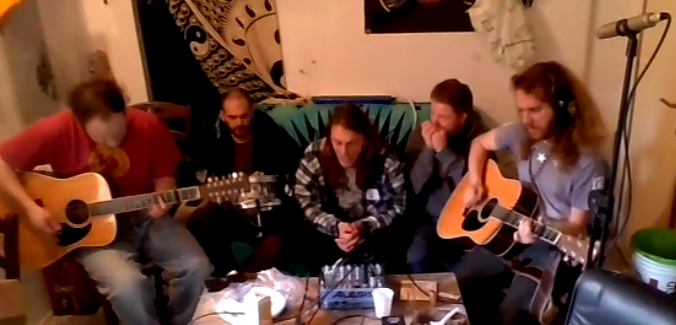 Monday, Apr. 24  (today!), we will be at the "Liberi e Vivi! Festival" at Parco delle Sughere in Donoratico. Four bands from 8PM including our fellows, Etruschi from Lakota with their new line-up. This means an energy-packed Tom Newton on harmonica-flute-percussions-keyboards (boy, ain't that a complicated instrument!).
Tuesday Apr. 25 is a national holiday in Italy: Liberation Day. After a short but refreshing sleep, you are expected in strong>Massa Marittima (GR), where from 10.30AM till noon you may follow the Banda of Torniella in the celebrations. The starting point for the march is in Garibaldi Square (i.e. the Cathedral square), and you will then proceed with various stops around the city.
If you didn't have enough of the Etruschi from Lakota, or if you could not make it on Monday, they will play once more in Montieri (GR) , in the Sala Polivalente (Community Hall), at 5.30PM.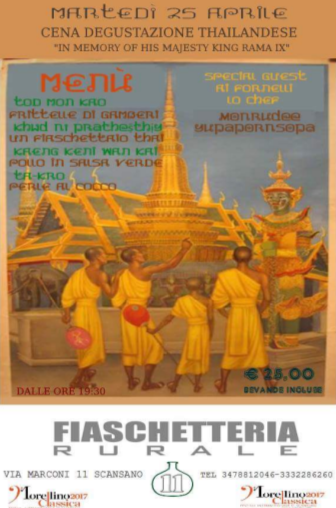 For those of you too far South, but still in Tuscany, the Thai dinner in Scansano, might be an option. This newsletter is not the place to elaborate on the reasons why a local food joint of a very traditional Tuscan village would hire a Thai Chef to commemorate His Majesty King Rama 2nd, but if you relocated from some urban sprawl to the hills of Maremma and are missing Kuai-Tiao, you know where to get it for one night. Call +393332286260 for information and reservations.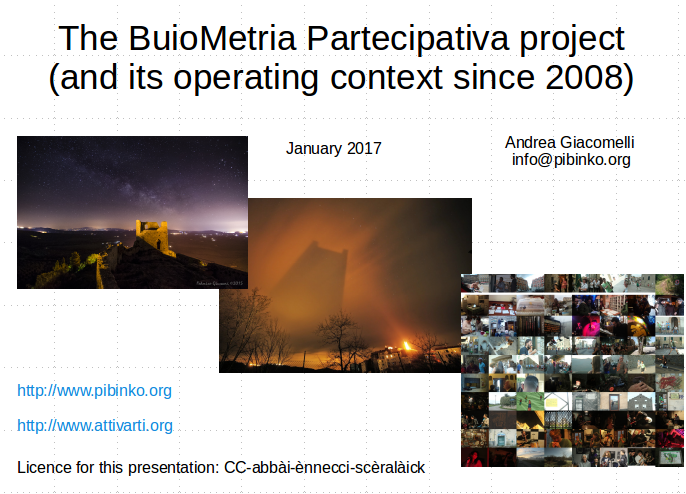 From wednesday Apr. 26 to Sunday, Apr. 30 the operation takes a citizen science angle:  we are in fact in the middle of the International Dark Sky Week, launched in 2003 and promoted by the International Dark Sky Association. In this context, with our BuioMetria Partecipativa we will take some night sky quality measurements in the  Belagaio national reserve, in the heart of the Farma Valley, less than 10 km from our Torniella headquarters. To wrap up this campaign, on  Sunday Apr. 30 from 7.30PM at the  restaurant-pizzeria il Boscaiolo we will give a presentation with the results of our measurement and a showcase of other events related to the Dark Sky Week (Please note: to dine at Il Boscaiolo on Apr. 30 it is adviseable to make your reservationsi by Friday Apr. 28 by writing to info@ilboscaiolotorniella.it).
By the way,  on April 28,  Etruschi from Lakota will play in  Torino, at Hiroshima mon Amour.
The plethora of events opened on Apr. 24 in Donoratico will have its gran finale with the First of May celebrations in Torniella-Piloni (see  some 2009 footage): the start will be at 8.30AM in the square of Piloni. Here you will wait the arrival of the band of Tornella, which will then escort you back to with a long march, arriving at the Torniella Castle around noon. In the afternoon, the brass instruments will be put to rest, and four rock bands will shake the village until 7PM.
The programm of the week will end at an undefined time of Monday evening. Let's see who will have the stamina to shout "we want more" at that point!
For organizational reasons, if you are interested in participating to the evening measures at the Belagaio national reserve on April 26-27-28 you should register in advance by writing to info@pibinko.org.
Ten years ago, today:  the crowdfunding for our palla a 21 in Chicago mission was continuing, while  Shakira and Beyoncé where explaining their meaning of life.