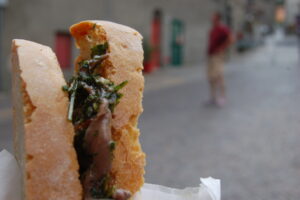 On August 29 and 30 the palla 21/eh! closes its round of 2015 in Vetulonia, a hamlet in the hills above Castiglione della Pescaia, in Southern Tuscany.
After this, there will be a last set to be played in order to close the Torniella tournament, which had to be interrupted on August 9 due to impending darkness (the matches ended up being extremely long, thus reaching the end of the day)
In Vetulonia we have, out of the six tournaments played during the Summer, the most Etruscan (the area is loaded with ruins, tombs, and the village itself has very ancient walls), the most maritime (walking out of the square where the games is played you may contemplate the beautiful coastline).
Last but not least, as far as I recall, Vetulonia is the tournament where I ate the best marinated anchovy sandwich to date…in 2008 (or maybe was it a very good Summer, so everyhting was good?).
For business reasons I don't know if it will be possible for me to attend both days of the tournament. But, if you haven't made it yet, or you did and you liked it, you should check out the palla games in Vetulonia. Then we will have the Torniella "recovery" game on September 20 or 27, and then we will revert to "off-tournament" mode until next Spring.
So – see you there (more likely on Sunday, than Saturday, me thinks). If you want to meet there, make sure you drop a line to palla21@attivarti.org.