[this is about a documentary made for the May celebrations in Tatti in 2019. Due to the COVID-19 restrictions and the impossibility of have the real 2020 celebration, the author of the documentary, Lilian "Mattuschka" Peschke, decided to make it available online. The translation of the full article will follow, or write to micalosapevo@pibinko.org for information. The youtube link to the documentary is embedded below]
Il gruppo dei maggerini "le rose selvatiche" di Tatti, nelle colline sopra la Maremma, nasce nel 2005 con la voglia di riportare nel paese la tradizione del canto del Maggio, diffusa in molte parti della Toscana, che negli anni a Tatti si era interrotta. Da questo spunto è partita un'avventura che ha coinvolto indistintamente chiunque volesse contribuire con il canto, la poesia, o il proprio strumento. Si è creato così un gruppo variopinto di persone di ogni età e provenienza, pronto a portare in giro per poderi, per il paese, e per le feste dedicate al Maggio, la gioia, la prosperità ed il buon augurio che la primavera risveglia in ciascuno di noi.
Nel 2019 Mattuschka Peschke, giovane artista di origini austriache ma cresciuta nelle campagne attorno a Tatti, ha deciso di seguire il gruppo nel giro dei poderi fra il 30 aprile e il Primo Maggio. Come un reporter "embedded", con la differenza di entrare in un plotone con una missione di pace, ha documentato i preparativi, gli spostamenti, e le divagazioni delle "Rose". Il lavoro è stato confezionato in un DVD.
Una peculiarità dei maggerini di Tatti è che, su un elenco di cinquanta nomi riportati nelle note di copertina, i tatterini sono meno della metà: gli altri provengono da varie latitudini, diciamo dal Baden-Württemberg al Cilento. Vivono a Tatti o dintorni, chi da pochi anni, chi da mezza vita.
Il gruppo dei maggerini aveva iniziato a fare le prime prove proprio pochi giorni prima dell'inizio della quarantena, e chiaramente ha dovuto interrompere le attività. Non potendo per il 2020 celebrare la ricorrenza come gli altri anni, è stato deciso di rendere il documentario disponibile online: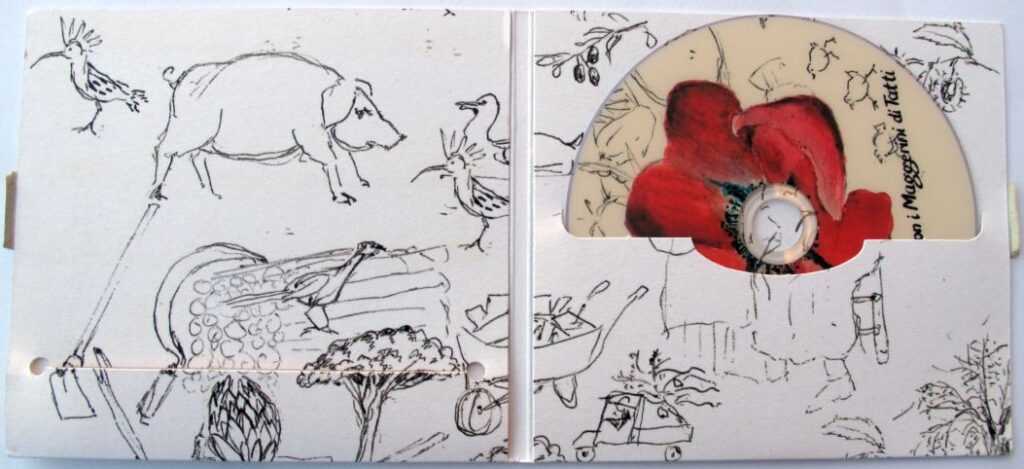 Le Rose Selvatiche nel 2019
Alberto Tesio, Alessandra Arcari, Anita Fronzaroli, Anna Toninelli, Antonio Quaranta, Aura Premoli, Carlo Simeoni, Cristina Berlini,Enea Garau, Filippo Fronzaroli, Flora Solar Tesio, Francesco Agostoni, Gaia Garau, Giada Giuliani, Giusi Calì, Guido Bendinelli, Guglielmo Eboli, Ivana Ebe Marconi, Krishna Durastanti, Laurel Corzo Hinojosa, Lido Conticelli, Liliana Cafiero, Margherita Martelli, Naima Durastanti, Nevio Sorresina, Nilo Eboli, Nora Gangemi, Oliver Gangemi, Pascal Leblanc, Patrizia Megale, Patrizia Subazzoli, Pedro Eboli, Petra Gangemi, Saverio Sorresina, Silvia Quarta, Simona Lombardelli, Simone Verniani, Stefania Ravaglia, Stefano Cicalini, Stella Esmeralda Tesio, Tiziano Leon Tesio, Tommaso Conticelli, Valeria Trumpy, Wolfgang Scheibe, Zeno Bendinelli
Ringraziamenti
il Barrino di Tatti e lo staff
Podere Cerro Balestro: Meri, Sergio, Mirco, Giada e Dario
Podere il Poderino: Enna e Bruno
Podere Pastini Olivi: Manuela, Vladimiro, Naima e Krishna
Agricampeggio Ixtlan: Valeria, Guido, Zeno ed Elio
Podere il Pianello: Erminia, Simonetta,Massimo, Sabrina, Marco, Daniela, Stefania, Asia, Elia, Matteo, Giulia, Simone, Giusi, Gabriele, Miriam, Valentina e Ismaele
Anna e Rolando
La Fattoria di Tatti: Andrea, Patricia, Virginia, Lorella
Il Circolino di Tatti: Morena, Sara, Cinzia e gli altri
Sequerciani: Ruedi, Mary, Oliver e Isabella
I Nocini: Simonetta, Noemi, Riccardo e Antonietta
Roselle e lo staff della Festa del Maggio