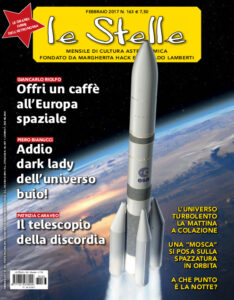 The new issue of "Le Stelle", one of the two main Italian magazines about astronomy and related topics is available.
If you regularly follow the blog posts and the announcements from the BuioMetria Partecipativa project, you will not find breaking news in the article. However, it is an interesting summary of our activities, plus you might be enticed by some of the other topics proposed by the magazine..
Below is the abstract of the article, translated from the magazine's  website :
BuioMetria Partecipativa: environmental monitoring going from Southern Tuscany to Europe and back. The results of the "Loss of the Night" European Project, conducted by common citizens over four years.
Last October the "Loss of the Night" European project was concluded. It was funded by the COST programme of the European Commission, and had started in Fall 2012. The article proposes a summary of the results of the project, with a specific angle on aspects concerning Italy. The scientific community has been acknowledging for years the fact that artificial light at night, if used in excess or inappropriately, will create light pollution and will represent a problem for its effects on human health, fauna, flora, landscape (also the starry sky is part of the landscape) and energy consumption.