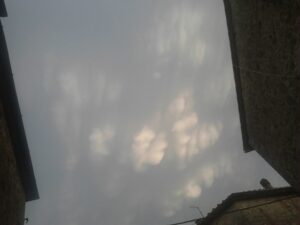 These are lyrics for a song about a drone who thought he was designed for precision agriculture, but got sent to war. The song is inspired by "La Guerra di Piero", a ballad by Fabrizio de André, one of the most famous Italia songwriters, and by a one-day visit to the Technology4all event in Rome (May 2015).
Voli sconvolto su un campo di grano
ti chiami drone, non sei un aeroplano
porti un sensore, ci osservi la terra
volevi la pace, ti mandano in guerra
nella memoria del mio processore
voglio filmati e foto per ore
ma più papaveri che soldati
meglio le rose che i bimbi arruolati
così diceva ed era inverno
e come per altri un po' dall'esterno
c'era su te uno sviluppatore
scrivera il tuo codice in mezzo al sudore
fermati Gino, fermati: fallo
ma non quel tanto da andare in stallo
se vai verso oriente, mi raccomando
rileva un torrente e non un commando
ma tu no lo udisti e il tempo passava
con i rilievi sopra l'Elba e Ostrava
ed arrivasti a sopra una ringhiera
in un bel giorno di primavera
e mentre volavi, gonfiate le palle
vedesti un drone in fondo alla valle
che aveva il tuo stesso identico softwore
ma gli adesivi di un altro colore
….
cadesti in terra senza un lamento
anche perché non hai voce né mento
però il tempo non ti sarebbe bastato
a scaricare ogni tuo dato
cadesti in terra senza fermento
sei pure un drone, non provi sgomento
e la tua vita finiva quel giorno
senza nemmeno aver visto un flicorno
Sviluppatore, cascare a Cafaggio [1]
che ci è buona la salsiccia, e pure il formaggio
Sviluppatore bello dritto in esterni
avrei preferito cascarci verso Terni
e mentre il girasole ti stava a sentire
nell banco RAM vedevi un ovile
dentro alla camera avevi la foto
di un podere prima pieno, che ora era vòto
ecc.
[1] frazione di Campiglia Marittima (LI).