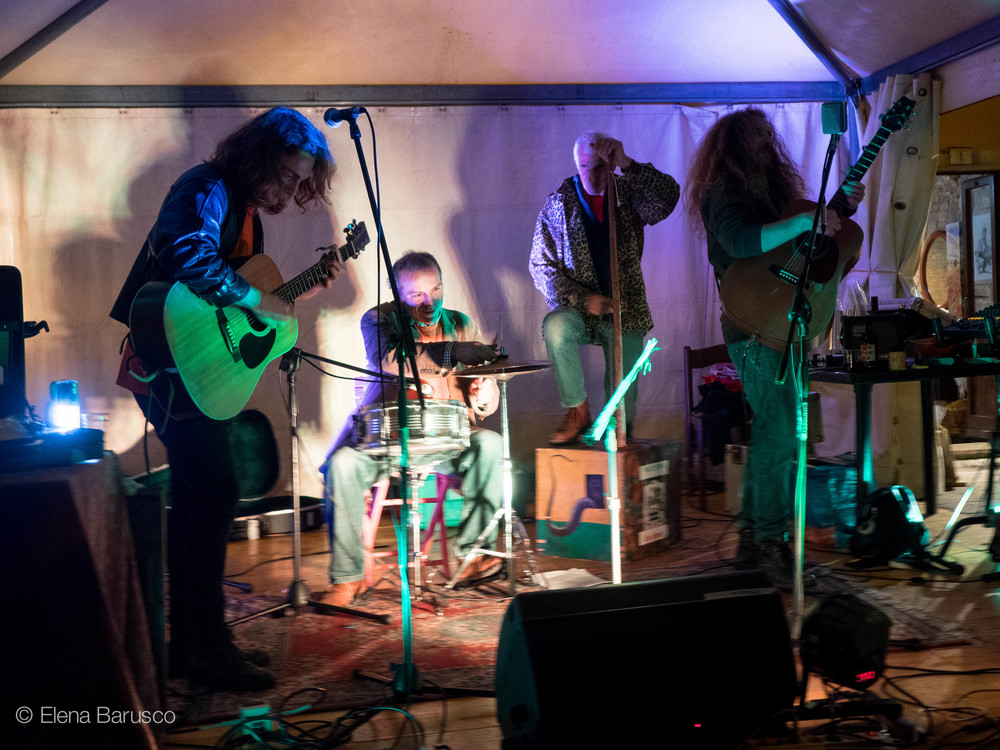 The Metalliferous Hills Jug Band (in Italian: Jug Band dalle Colline Metallifere or JBCM) is an international and inter-generational collective based in Southern Tuscany, close to the border of the Grosseto and Pisa provinces. This is an area where rural issues, geothermal energy, and decommissioned mining sites characterize one of the lesser known parts of the region.
The JBCM proposes a combination of music and environmental practice, where melody, rhythm, storytelling, and scientific outreach merge in a single situation, with a country-blues backdrop, played by two young professional rockers, and two environment and agriculture experts (less young, but still quite dynamic).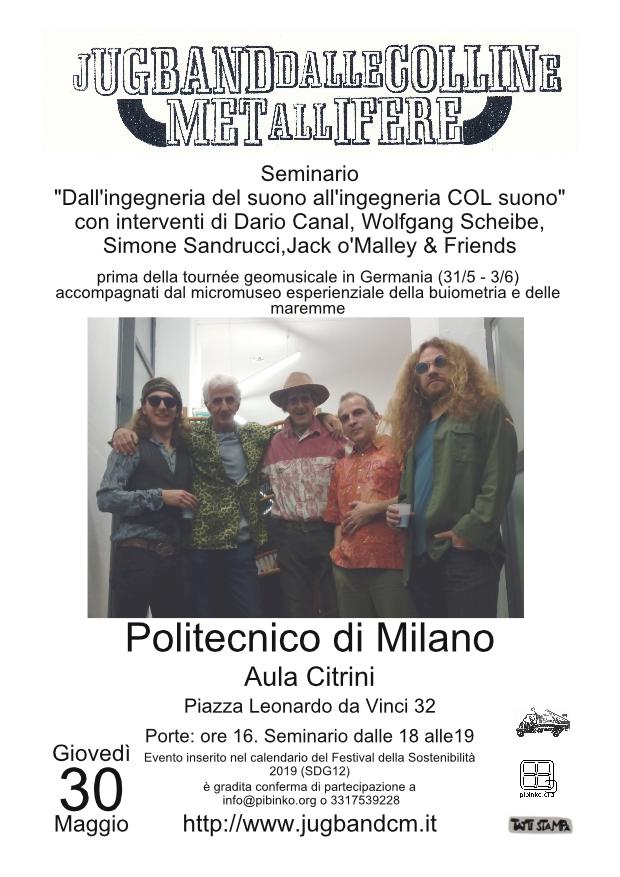 From May 31 to June 3, 2019 the JBCM will be on its first tour, which happens to be abroad, namely in the Stuttgart area, in Germany (here are the tour details). On its way North, the band will make a stop in Milano. Here the JBCM will give a seminar (Campus Leonardo, Aula Citrini, May 30 from 4PM to 7PM) about "From Sound Engineering to Engineering with Sound". This event is also part of the official program of a national Festival on Sustainability.
The musical component of the JBCM, directed by Dario Canal (vocals, guitar, and washboard) and Simone Sandrucci (guitars and banjo), travels in parallel with the other ingredients which the collective proposes in each performance. It carries a merchandising desk which may be exchanged for a "micro-museum" or for a tourism board info point, or a delicatessen tasting table…it's all in the eye of the beholder. In fact, the band carries its territory, in the form of maps (curated by Jack O'Malley who is an environmental engineer when not drumming), hand-made prints (created by Wolfgang Scheibe, the JBCM one-string bass player), balls from ancient games, and numerous other items collected in Southern Tuscany (and beyond).
The JBCM song list sums the influences and the experiences across three different generations, given the age range of the musicians. Starting from some Rock'n'Roll and Blues standards (some of which adapted to Italian by the band), it then covers some traditional Italian songwriter hits from the Seventies, and proposes several original songs. These include various tracks from Etruschi from Lakota (the main band where Dario and Simone work together), as well as new Italian authors.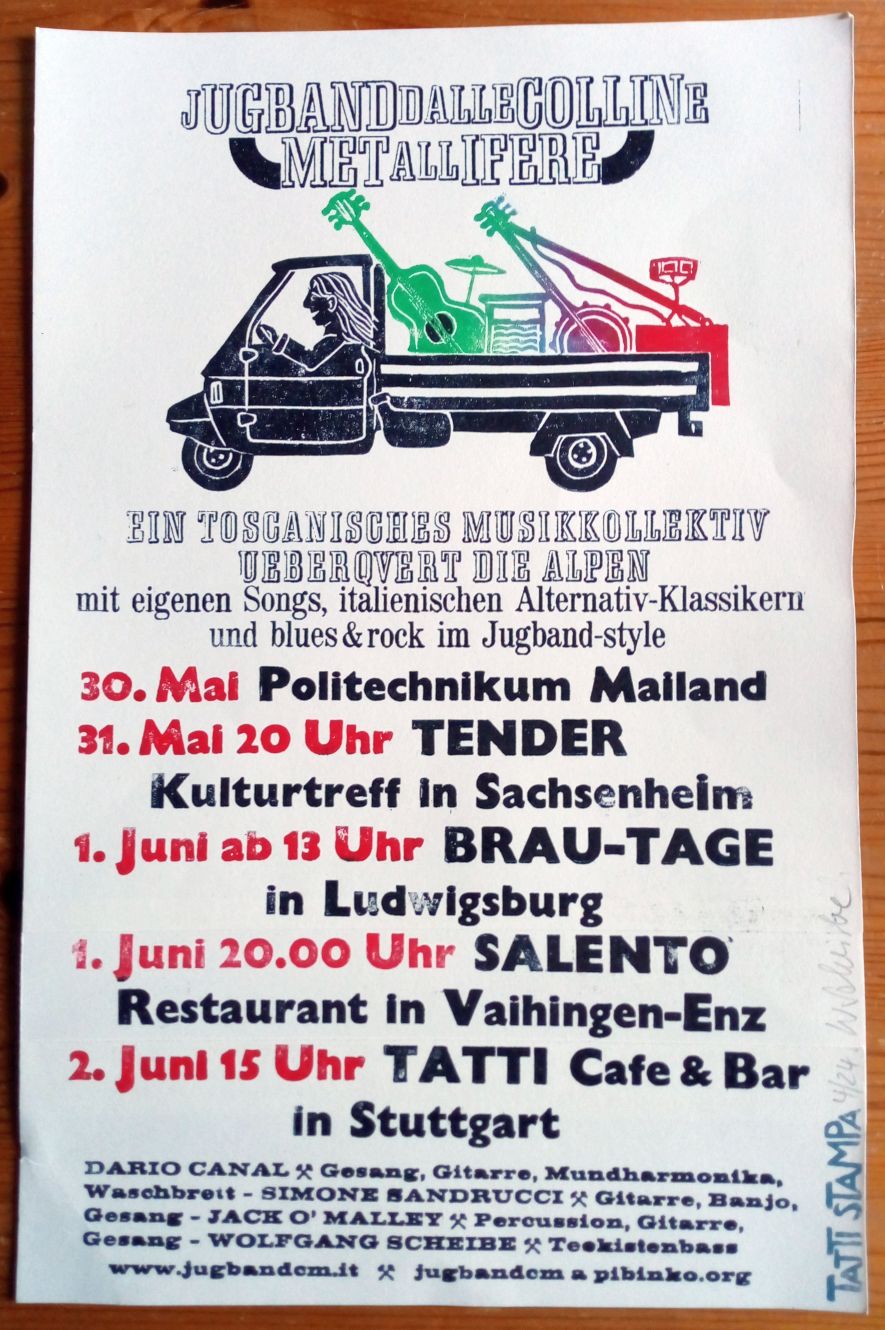 To complement this repertoire, we have the "geomusical", part of the project. As an example, there is a blues on air quality in Milano, written by Jack o'Malley in 1991, and re-visited with the JBCM as a part of a path where music becomes a connector between cities and countryside, science and practice, urban innovation hubs and bars in rural hamlets…
…at the end of the day, you may find that the differences between these settings are more in form than in substance, and that a rocker, a researcher and a farmer can work as peers in a project concerning the protection and the development of their territory.
A taste (including typical Tuscan products) of the JBCM format was recently given in a duo mini-tour covering Milan and Brescia, with the collaboration of Federico Giussani, a professional nightscape photographer. We are also planning more events starting from the second half of June, always mixing entertainment location and scientific venues.
If you like the JBCM project, you can also support our mission. Find out how.
For more information: jugbandcm@pibinko.org or +393317539228