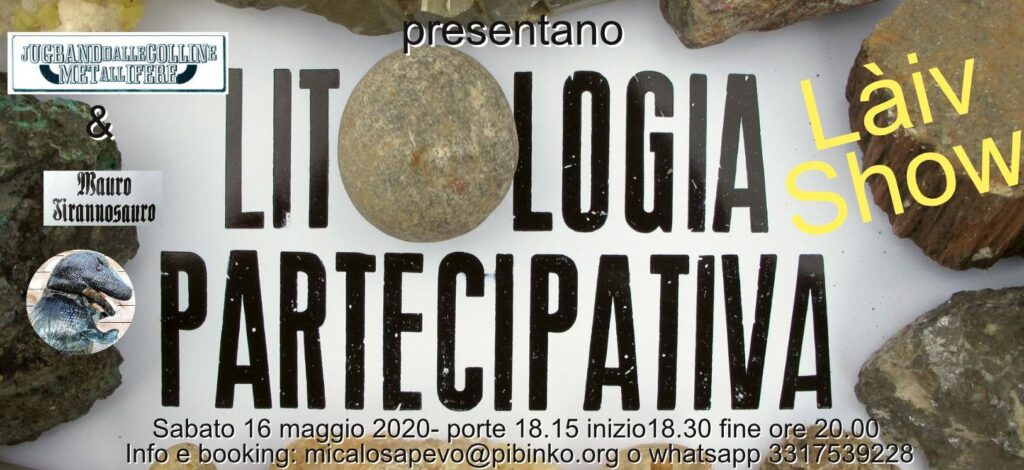 The May 16 event had four goals: (1) summarizing the prototype phase of the Participatory Lithology project (2) showing how the project created synergies with other activities pre-existing to phase 1 of the COVID-19 emergency (3) presenting the people who participated actively, (4) providing a little outlook on our work.
During the streaming we never had less than a dozen participants, at some points reaching fifteen. Is this a lot? Is this a little? You tell us (micalosapevo@pibinko.org). An interesting fact: we had two participant from outside Italy, and non-Italian-speaking, who followed a 90-minute event over 90% of which was is Italian.
Mauro Tirannosauro was on the loose: in addition to singing a playback version of one of his songs, we played maracas, drank vermentino wine from Loriano, and interacted with the attendees. Jack O'Malley was a decent sidekick:

Below we provide links to the recordings of the talks. To minimize the risks of bandwidth availability (we were streaming from a rural location with known problems), the talks were pre-recorded. Then, speakers who managed to attend during the event, eventually made their presentation live, following the same format which was proposed to them for the videos.
In the coming days, we will post additional comments for some of these talks. In the meantime, enjoy them at leisure:
Talks
Immages and musica
Music
The photos of the streaming session are by Claudia Göbel