[TO BE TRANSLATED]
Per avviare la giornata:
Gli articoli sul Tirreno di ieri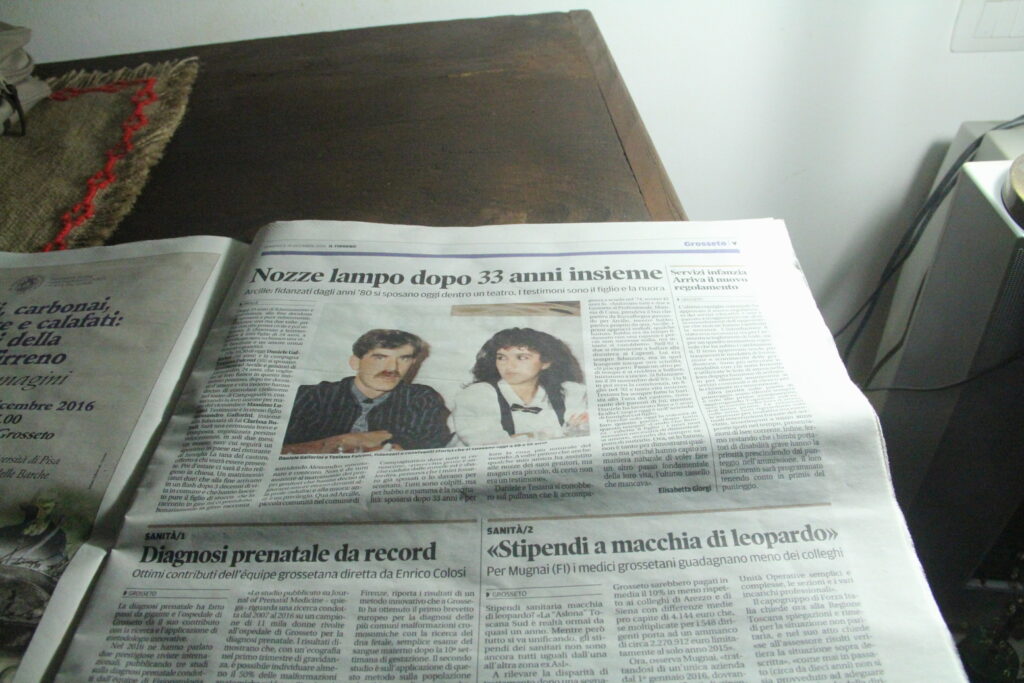 Non c'entra niente col Festival d'inverno in Val di Farma, ma mi è sembrata una bella notizia da condividere e abbiamo detto che tutta questa operazione non è strettamente "pro loco" (pur essendo sicuramente "pro un loco"…o qualche spagnolo potrebbe dire "para unos locos")
La seconda giornata del festival d'inverno sintesi:
Arriva una coppia sui 65 anni da Prato, che ha letto l'articolo sul Tirreno di ieri e vuole fare un itineriario trekking.
Dopo Roccia pervenuto sabato pomeriggio, con una puntualità quasi Svizzera è arrivato Simone Sandrucci (lead guitar degli Etruschi) con folta rappresentanza da Montecerboli.
L'aperitivo al bar, in stile icebreaker party, è subito sfociato in una jam session tra Wolfgang di Tatti e Simone (basso e chitarra).
Superato in snellezza un pranzo alla Casa del Chiodo, gli Etruschi assieme a Peter Seeds sono approdati alla sala della Banda di Torniella alle 16.
Prima delle 18.15 è cominciata la musica, terminata prima delle 20.
La presentazione della mappa di comunità della Val di Farma si è svolta tra le 21 e le 21.30 nella saletta della microbiblioteca/museo geologico del circolo ARCI.
La cerimonia di consegna dei buiometri assieme alle anticipazioni sui programmi 2017 di Attivarti.org e delle altre realtà associative partecipanti all'evento è stata spostata alla giornata di lunedì, dato innesco completamente volontario di una jam session al bar della Combriccola..cominciata attorno alle 22 con Peter Seeds e circa 20 presenti, si è conclusa quasi alle 02.00 di lunedì con Dario Canal e un altro che analizzavano Elderly Woman behind the Counter of a small Town.
Ricordiamo gli appuntamenti rimanenti.
NB: Vale sempre l'invito a leggere la guida al Festival.
Lunedì:
ore 12: buongiorno con gli Etruschi a Torniella (luogo da definire)
ore 15 circa – spostamento da Torniella a Grosseto via Roccatederighi
ore 19: Grosseto: Caffé Ricasoli –  – buonasera con il Festival d'inverno in Val di Farma
ore 21: Grosseto: centro commerciale Gorarella per m(')appare Maurizio Bacci
la chiusura del Festival è prevista attorno alla mezzanotte e si svolgerà a Scansano (ma non era un festival in Val di Farma e a Grosseto????)
per essere più sicuri di trovarsi: scrivete a mappare@attivarti.org
Comunicazione di servizio (facendo riferimento a quella di ieri)
Babbo Natale esiste ed è passato in anticipo: Roccia ha ricevuto 5 litri di benzina in tanichetta rossa.
[….continua]
p.s. la cosa che più mi ha colpito: la varieta di umori durante il concerto degli Etruschi
p.p.s. a fine festival seguirà foto reportage, con qualche estratti video